We take the guess work out of buying female health products by reviewing all the top products on one site and giving you all the information you need to decide which ones are the best fit for you. We've reviewed the top female sexual enhancement products and from that we've been able to determine which products work best for the majority of women. You can expect many benefits from using a medically formulated female libido enhancer.
What You Can Expect from Female Sexual Enhancement Products
Improved Sensation and Pleasure
Increased Appetite for Sex
Help Achieving Orgasm More Often
Quicker Full Body Arousal
Fewer Mood Swings & Less Irritability
Improved Vaginal Lubrication


We've added another great E-Book to our resource section that you can
download for free!
Ladies - check out this fantastic sex guide that will help you unlock your secret desires and
enjoy the best sex ever!
It's just another perk for our readers courtesy of your friends at WomenReviewed.com!
Visit our free E-book section
to download now!
We've compiled an honest and unbiased list of the most effective sexual enhancers for women and what results you can expect from them. We don't sell or manufacture any of the products we review so - unlike most sites - we can give you factual information that is independent and unbiased.
We rate female sexual enhancers like Libigirl using several criteria including customer testimonials, safety, value, medical studies, customer service, money back guarantees, and - most importantly - which ones produce the best results. We assign a final score to each product based on this criteria - and customer feedback - to generate a user rating. We hope you find this Libigirl review helpful in finding the female sexual enhancer that's right for you.
Libigirl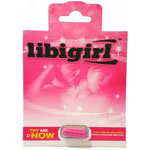 User Rating: #81







Libigirl
Manufactured By:

Manufacturer Unknown

Product
Discontinued


Libigirl Review:
Libigirl capsules are a female enhancement product that has a questionable past after Australian government warnings surfaced regarding illegal ingredients contained in its formula. The manufacturer of Libigirl is no longer in business and Libigirl is not available at this time. If you find a website claiming to sell Libigirl it would be wise to avoid that website altogether.
Libigirl Product Claims:
Stronger and Faster Orgasms Immediately
Intensified Sensitivity and Arousal
Increased Female Sex Drive
Libigirl Results:
It's unclear what results - if any - women can expect with Libigirl capsules. While Libigirl contains almost none of the proven ingredients known to help female libido, it has previously contained the potentially dangerous drugs Sildenafil and Tadalafil, and was sold illegally as a natural product - when in fact these pharmaceutical ingredients can only be prescribed by a doctor - and can pose severe health risks in some women.
The manufacturer initiated a recall of Libigirl after warnings from the TGA (Australian equivalent of the FDA) and Libigirl is no longer available for purchase. This product could produce serious health risks, and the TGA has advised that any women taking this product should discontinue use immediately and consult their physician.
Customer feedback indicates that Libigirl was not noticeably effective - and even without the potentially dangerous ingredients this product was not nearly as effective as trusted female enhancers like Provestra, Femestril, and Vigorelle. Libigirl is no longer available, and this can only be seen as a good thing in our opinion.

Product Guarantee: None
----> Product Discontinued


Review of the Week
- The Editors at WomenReviewed.com add at least one new review each week. Check out this week's new
female enhancement product review
of the week. You can also visit our
review archive
to see all the product reviews we've featured. Check back often for new product reviews every week!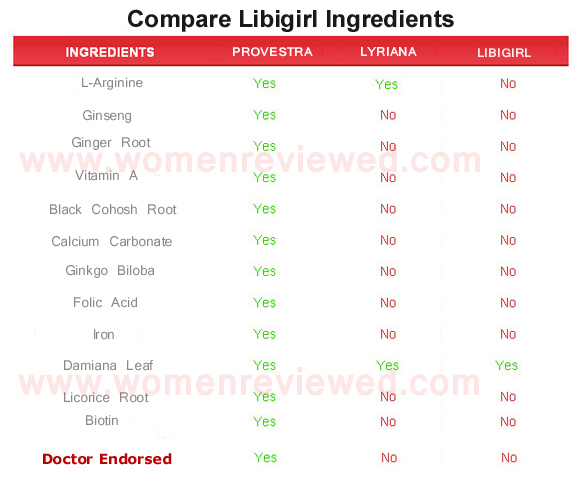 Libigirl -
Review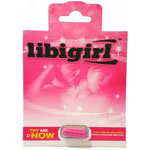 Libigirl was a female sexual enhancer which it seems was produced by a company Libigrow - and was a "sister product" to their male enhancement capsule which was called Libigrow. Neither product is currently available as both have been discontinued and recalled. Libigirl made some bold claims while they were still in business, including the statement that "In fact, you will achieve an orgasm the first time you use it!" From the Libigirl product website:
"The Truth Is: Most women complain about decreased arousal and difficulty achieving orgasm. Women lose sexual interest for many reasons, but the main one is that they never or rarely have an orgasm. 75 percent of married women admit that they have lost desire for sex and 46 percent of all women report never having achieved an orgasm. Libigirl is the guaranteed solution that is actually changing these appalling statistics. Libigirl was scientifically formulated to immediately intensify the sensitivity of the clitoris to deliver explosive orgasms that provide maximum sexual fulfillment. The days of a woman not achieving an orgasm are over.

Men are not the only ones who deserve to achieve an orgasm every time they have sex. Women should as well. An orgasm is a form of personal surrender that is erotic and at the same time therapeutic. Prior to your sexual activity, take 1 Libigirl and get ready for great sex! You will immediately feel it and the increased sensitivity will progressively enhance until a strong, fulfilling, and powerful orgasm is achieved. Libigirl is safe to use as often as desired."
The Libigirl website made a lot of bold claims back in the day, and this was another factor as to why Libigirl is no longer around - although the main reason is that the product contained pharmaceutical medications which were illegal in natural products, and should have been issued by doctor prescription only. The Libigirl website (when it was still working) made outrageous and unsubstantiated claims such as "Libigirl is PROVEN to work for ALL WOMEN" and "You WILL achieve an orgasm the first time you use it!" Although Libigirl was reported to produce mild improvement for some women, the fact is that this product was not good enough to live up to the claims they made about it.
Libigirl was a female sexual enhancement pill designed to be taken on demand, prior to sexual activity. Unfortunately, it was sold as a 'natural, herbal' product, which clearly it was not. If you're looking for a product to increase low female libido, improve sexual sensation and increase pleasure - then many effective female enhancers are still available. Libigirl, however, is no longer available and has been discontinued for some time. Compare Libigirl to top-rated.
Libigirl -
Product Claims
Stronger and Faster Orgasms Immediately
Intensified Sensitivity and Arousal
Increased Sex Drive
Libigirl -
Guarantee
No money back guarantee.
Libigirl -
Usage
Libigirl was to be taken daily or as needed prior to sexual intercourse.
Libigirl -
Cost
$39.95 for one box - 6 doses
$69.95 for two boxes - 12 doses
$119.95 for four boxes - 24 doses
Libigirl -
Testimonial
There are no Libigirl customer testimonials.

Libigirl -
Ingredients
The "stated" ingredients in Libigirl were Vitamins A, B2, B6, B12, as well as Cranberry Fruit Extract, Damiana Leaf, Muira Puama, Pomegranate Extract, Cordyceps Sinensis, and Evening Primrose.
Libigirl -
Side Effects
As stated by the TGA (Therapeutic Goods Administration) warning against Libigirl: "Libigirl capsules pose a serious risk to your health and should not be taken.
The Therapeutic Goods Administration (TGA) has tested Libigirl capsules and found that:
it contains the undeclared prescription substances sildenafil and tadalafil - despite the product label claim that it is 100% Natural and contains no medicines.
consumers are advised that sildenafil is a prescription-only medicine (which is the active ingredient in Viagra).
consumers are advised that tadalafil is a prescription-only medicine (which is the active ingredient in Cialis).
The supply of Libigirl capsules is illegal.
Libigirl capsules have not been assessed by the TGA for quality, safety or efficacy as required under Australian legislation, and the place of manufacture is not approved by the TGA".
Libigirl -
Bonuses
Current Libigirl Free Bonuses:
No Free bonuses currently available with Libigirl purchase.
Libigirl -
Medical Endorsements
We are not aware of any doctor or medical endorsements for Libigirl.
Libigirl -
Shipping
Shipping cost varied depending on retailer.
Libigirl -
How to Order
Libigirl has been discontinued and is no longer available for purchase.
Libigirl -
Conclusion

Overall we feel that Libigirl was definitely a poor product to help women's sexual enjoyment - and that was certainly one of the reasons for it's demise. Libigirl was somewhat one-dimensional in that it was mainly designed to provide short term benefits of mildly increased sensation during sex. However, Libigirl did not work to help address one of the main female sexual complaints which is low female sex drive (also referred to as low female libido). In other words, Libigirl may or may not help make sex more enjoyable - but it won't do anything to actually increase your arousal or desire to have sex in the first place - the main complaint that most women have. Libigirl was taken prior to sexual intercourse to "boost sexual pleasure".
Most importantly, we must caution women that Libigirl has previously been found to contain Tadalafil and Sildenafil, two potentially dangerous pharmaceutical drugs which cannot legally be sold without a prescription. Tadalafil is the active ingredient in Cialis, and Sildenafil is the active ingredient in Viagra - and both should only be taken under a physician's care. Studies have shown that these drugs may interact with nitrates found in some prescription drugs (such as nitroglycerin) and lower blood pressure to dangerous levels. Because of the past difficulties with this product, there is no assurance that any product bearing the Libigirl or similar brand label - is safe, effective, or pure. Libigirl has far fewer proven ingredients than leading female enhancement formulas - and comes with several potential health risks.
Any women who still have Libigirl in their possession should dispose of it immediately. For all of these reasons we would encourage ladies to stick to a female sexual supplement that's been proven effective, known to be safe, and from a reputable company that's been around for years - and none of these apply to Libigirl. The Australian equivalent of the FDA - the Therapeutic Goods Administration (TGA) currently has a safety advisory againt Libigirl, and you can read it here.
Libigirl has been discontinued as of 2013 and is no longer available to purchase. Even when it was available, Libigirl was not one of the more popular female sexual enhancers - and if you were looking for dramatic and guaranteed results in a sexual enhancer, then Libigirl probably wasn't for you anyway. There are several superior products like Provestra, Femestril, and Vigorelle which have been around for many years - are completely safe - and have been proven extremely effective. Research from our editors and customer feedback from readers indicated a user rating of #81 for Libigirl - far, far behind the top-rated female sexual enhancement products. Compare the top-rated female enhancers
Millions of women are now successfully using female sexual enhancers to dramatically improve their sex lives and re-ignite the spark in their relationship. Safe and effective, herbal sexual enhancers for women are one of the most successful options as a treatment for low female libido - and should be considered among the top methods for improving your sexual enjoyment and satisfaction. Female sexual enhancement products can bring back the passion and pleasure in the bedroom that many women now find so elusive.
While Libigirl is no longer available, many popular female enhancers today provide very positive results for most of the women who try them. All of our consumer recommended products have proven repeatedly that they work - through numerous clinical trials and overwhelming positive feedback from the women who've used them. We encourage you to learn more about the top rated sexual enhancement products for women - and start experiencing the thrill of revitalized sexual health and desire. Many options are now available that will help restore your sex life and make sex fun again!