We take the guess work out of buying female health products by reviewing all the top products on one site and giving you all the information you need to decide which ones are the best fit for you. We've reviewed the top female libido treatments and from that we've been able to determine which products work best for the majority of women. You can expect many benefits from using a medically formulated herbal sexual enhancer.
What You Can Expect from Female Sexual Enhancement Products
Improved Sensation and Pleasure
Increased Appetite for Sex
Help Achieving Orgasm More Often
Quicker Full Body Arousal
Fewer Mood Swings & Less Irritability
Improved Vaginal Lubrication


We've added another great E-Book to our resource section that you can
download for free!
Ladies - check out this fantastic sex guide that will help you unlock your secret desires and
enjoy the best sex ever!
It's just another perk for our readers courtesy of your friends at WomenReviewed.com!
Visit our free E-book section
to download now!
We've compiled an honest and unbiased list of the most effective female sexual enhancement treatments and what results you can expect from them. We don't sell or manufacture any of the products we review so - unlike most sites - we can give you factual information that is independent and unbiased.
We rate female libido products like Flibanserin using several criteria including customer testimonials, safety, value, medical studies, customer service, money back guarantees, and - most importantly - which ones produce the best results. We assign a final score to each product based on this criteria and customer feedback to generate a user rating. We hope you find this Flibanserin review helpful in finding the female libido enhancer that's right for you.
Flibanserin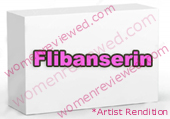 User Rating: #35







Flibanserin
Manufactured By:

Sprout Pharmaceuticals
4208 Six Forks Rd, Suite 1010
Raleigh, NC 27609
USA


Flibanserin Review:
Flibanserin is an experimental drug being studied as a treatment intended to help increase sex drive for women, somewhat like a version of female 'Viagra'. Flibanserin is specifically targeted at pre-menopausal women who feel that they have an extremely low sex drive.
Development of Flibanserin by drug maker Boehringer Ingelheim was halted in October 2010 following a negative report by the U.S. Food and Drug Administration. The rights to the drug were then transferred to Sprout Pharmaceuticals which is continuing the drug development process. Recently (Feb. 2015) Sprout Pharma re-submitted Flibanserin for FDA approval despite the fact the drug has already been twice rejected by the FDA.
Flibanserin Product Claims:
Non-hormonal treatment for HSDD
Helps to Increase Sexual Desire in Women
Flibanserin Results:
Flibanserin was originally intended as an anti-depressant, and like other anti-depressants it was found by accident to have some "off label" use for treating sexual dysfunction. However, like other anti-depressants it can have negative side effects and provides limited benefits for increasing sex drive or libido.
By most accounts, Flibanserin may not be a strong choice for ladies looking to improve their sexual satisfaction or boost their libido. According to Sprout Pharmaceuticals own research - in the women that reported any positive effects at all from using Flibanserin, on average they only experienced an increase of 1.7 extra "satisfying sexual episodes" per month - while women in the placebo group reported an increase of 1.0 times per month.
Product Guarantee: None
----> Flibanserin is not available at this time
----> Flibanserin is not approved by the FDA


Review of the Week
- The Editors at WomenReviewed.com add at least one new review each week. Check out this week's new
female enhancement product review
of the week. You can also visit our
review archive
to see all the product reviews we've featured. Check back often for new product reviews every week!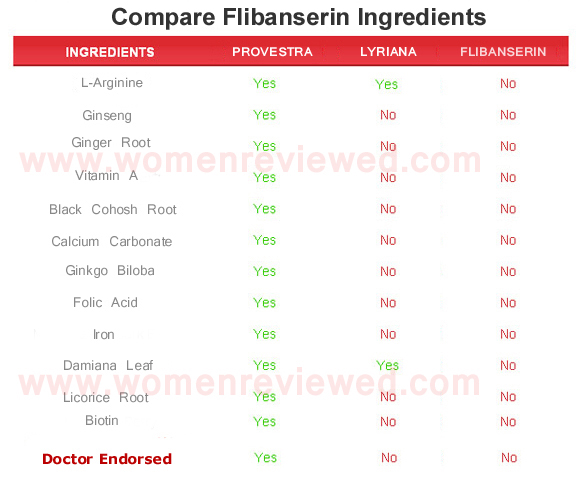 Compare Flibanserin to Provestra
Flibanserin - Full Review
Flibanserin -
Review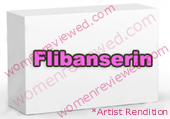 Flibanserin is manufactured by Sprout Pharmaceuticals, and is intended as a treatment for low sexual desire in women and for female sexual dysfunction or HSDD (hypoactive sexual desire disorder). Flibanserin has recently been re-submitted for FDA approval - but could still be years away from being available - if it is approved at all. In addition, Flibanserin could have several side effects and would only be taken under a doctor's care. From the Flibanserin manufacturer's website:
"Novel ideas fuel our entrepreneurial passion. With a breakthrough concept for women, we "sprouted" out of Slate Pharmaceuticals in 2011 to focus on delivering a first-in-class, first-in-disease approval for female sexual dysfunction. Sprout is the owner of flibanserin, a novel, non-hormonal treatment that has shown promise addressing hypoactive sexual desire disorder, the most common form of female sexual dysfunction. We acquired the compound from Boehringer Ingelheim.


(Raleigh, N.C., February 17, 2015) – Sprout Pharmaceuticals announced today that it has resubmitted a New Drug Application (NDA) to the U.S. Food and Drug Administration (FDA) for flibanserin, an investigational, once-daily, non-hormonal pill for Hypoactive Sexual Desire Disorder (HSDD) in premenopausal women. If approved, flibanserin will be the first and only FDA-approved treatment for HSDD."
Several large pivotal Phase III studies with Flibanserin were conducted in the US, Canada and Europe. They involved more than 5,000 pre-menopausal women with generalized acquired Hypoactive Sexual Desire Disorder (HSDD). The results of the Phase III North American Trials demonstrated that although the two North American trials that used the Flibanserin 100 mg. (qhs) dose showed a statistically significant difference between Flibanserin and the placebo for the endpoint of [satisfying sexual events], they both failed to demonstrate a statistically significant improvement on the co-primary endpoint of sexual desire. Therefore, neither study met the agreed-upon criteria for success in establishing the efficacy of Flibanserin for the treatment of HSDD (Hypoactive Sexual Desire Disorder).

Unfortunately, most of the studies on Flibanserin confirm that this product has not lived up to the hype when it first tried to get FDA approval almost 10 years ago. At that time, Boehringer Ingelheim was trying to get Flibanserin 'fast-tracked' for FDA approval, and Flibanserin was introduced as a huge breakthrough equivalent to the first Female Viagra for women. Sadly - as with many new medications - that was mainly hype and as it turns out Flibanserin had turned out to be a bust thus far. While Flibanserin may still eventually get FDA approval and become available as the first legal prescription medication to treat HSDD - the fact that the drug has already been rejected twice by the FDA makes this scenario seem unlikely.
Flibanserin -
Product Claims
Non-hormonal treatment for HSDD
Helps to Increase Sexual Desire in Women
Flibanserin -
Guarantee
Flibanserin is a prescription medication and like all prescription medications there would be no money back guarantee.
Flibanserin -
Usage
Flibanserin is a non-hormonal HSDD treatment in capsule or tablet form and is taken orally once daily.
Flibanserin -
Cost
Flibanserin pricing is unavailable as the drug is not yet FDA approved and is not available for purchase.
Flibanserin -
Testimonial
There are no Flibanserin customer testimonials.

Flibanserin -
Side Effects
The overall incidence of adverse side effects among women taking Flibanserin was low, the majority of adverse events being mild to moderate and resolved during the treatment. The most commonly reported side effects of Flibanserin included dizziness, nausea, fatigue, somnolence and insomnia.
Flibanserin -
Bonuses
Current Flibanserin Free Bonuses:
There are no free bonuses for ordering Flibanserin
Flibanserin -
Medical Endorsements
Flibanserin is not approved for sale in the USA and does not have FDA approval. Despite repeated attempts to get Flibanserin approved, there is no indication that Flibanserin will ever be approved for sale.
Flibanserin -
Shipping
Flibanserin is not yet available for purchase.
Flibanserin -
How to Order
Flibanserin is not yet available for purchase.
Flibanserin -
Conclusion
We feel that Flibanserin will have limited benefit as a product to restore female libido and increase sex drive - if it is even approved by the FDA at some point. Studies involving Flibanserin have shown that the results with Flibanserin are barely above what is experienced by the placebo group. Flibanserin must be used for several weeks before there's even a chance you'll notice any results. In addition, there is a significant list of side effects associated with taking Flibanserin, which - while not overly serious - are easily avoidable in similar herbal products. Flibanserin would be available by prescription only, and you should never take Flibanserin without consulting a doctor first.
Feedback indicates that results with Flibanserin will be barely more noticeable than using a placebo. The women receiving flibanserin reported that the average number of times they had "satisfying sexual events" rose from 2.8 to 4.5 times a month. However, women receiving placebo reported also an increase of "satisfying sexual events" from 2.7 to 3.7 times a month. In other words, Flibanserin only resulted in about 0.7 more "satisfying sexual events" per month than the placebo did. This hardly seems worth having to endure the possible side effects of Flibanserin, in our opinion.
Overall we rate Flibanserin as - at best - a "decent" prospect for women looking to spice up their sex life and increase sexual satisfaction. Especially considering there are several herbal alternatives like Provestra, Femestril, and Vigorelle which provide several benefits in female sexual response - without any side effects - and available without a prescription. Just the side effects alone should be enough to make most women to cross Flibanserin off their list of possible sexual enhancement products. We feel there are a number of natural, herbal products which have proven very effective in improving low female libido and sex drive - and are much safer, effective, and affordable. As such we can't recommend Flibanserin as a good option for most women. There are several superior products available which are natural and much more gentle on the body - and still provide proven results.

Unfortunately Flibanserin leaves much to be desired as a treatment for low female libido and hypoactive sexual desire disorder. With an extremely high price tag and numerous side effects - we feel that Flibanserin would pale in comparison to a number of herbal female enhancers which have been available for a number of years. Flibanserin is not FDA approved and is not available to purchase in the USA.
While Flibanserin is definitely NOT the best option for low female libido, there are a number of natural treatments to increase female sex drive and help improve arousal and sexual satisfaction. All of our consumer recommended products have proven repeatedly that they work, and our consumer recommended female sexual enhancers have excellent money back guarantees. We encourage you to learn more about these products and start experiencing the thrill of revitalized sex life and better sexual satisfaction and enjoyment.