We take the guess work out of buying female health products by reviewing all the top products on one site and giving you all the information you need to decide which ones are the best fit for you. We've reviewed the top female sexual enhancement products and from that we've been able to determine which products work best for the majority of women. You can expect many benefits from using a medically formulated female libido enhancer.
What You Can Expect from Female Sexual Enhancement Products
Improved Sensation and Pleasure
Increased Appetite for Sex
Help Achieving Orgasm More Often
Quicker Full Body Arousal
Fewer Mood Swings & Less Irritability
Improved Vaginal Lubrication


We've added another great E-Book to our resource section that you can
download for free!
Ladies - check out this fantastic sex guide that will help you unlock your secret desires and
enjoy the best sex ever!
It's just another perk for our readers courtesy of your friends at WomenReviewed.com!
Visit our free E-book section
to download now!
We've compiled an honest and unbiased list of the most effective sexual enhancers for women and what results you can expect from them. We don't sell or manufacture any of the products we review so - unlike most sites - we can give you factual information that is independent and unbiased.
We rate female sexual enhancement products like Female Treasure using several criteria including customer testimonials, safety, value, medical studies, customer service, money back guarantees, and - most importantly - which ones produce the best results. We assign a final score to each product based on this criteria - and customer feedback - to generate a user rating. We hope you find this Female Treasure review helpful in finding the female sexual enhancer that's right for you.
Female Treasure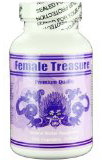 User Rating: #48







Female Treasure
Manufactured By:

DAO Natural Herbs LLC
Costa Mesa, CA 92626
USA


Female Treasure Review:
Female Treasure capsules have been around for a short time and are not one of the better known female sexual enhancement products on the market. Female Treasure is manufactured by a company called DAO Natural Herbs out of California, which also sells a male sexual enhancer called 'Red Sex Dragon'.
Female Treasure is a 100% natural capsule designed to help reduce menopausal symptoms, increase female libido, increase energy, and improve mood. There is no official Female Treasure website, and instead the product is sold through a handful of online health retailers, as well as Amazon.com.
Female Treasure Product Claims:
Eases Menopausal Symptoms
Improves Female Libido
Mood Enhancement
Works to Reduce Night Sweats and Hot Flashes
Female Treasure Results:
It's unclear what results - if any - the average woman will experience while using Female Treasure to improve female libido. This product claims to have many uses and it's hard to imagine a product that can improve so many aspects of female health.
At most 1 or 2 of the ingredients in Female Treasure are normally used to improve female sex drive, however many important ingredients for female enhancement are lacking. Our analysis of the ingredients indicates that Female Treasure is not likely to be nearly as effective as leading competitors like Provestra, Femestril, or Vigorelle - and in most cases Female Treasure probably won't provide noticeable improvement in sexual sensation or arousal.

Product Guarantee: No Money Back Guarantee
----> Female Treasure has no official product website


Review of the Week
- The Editors at WomenReviewed.com add at least one new review each week. Check out this week's new
female enhancement product review
of the week. You can also visit our
review archive
to see all the product reviews we've featured. Check back often for new product reviews every week!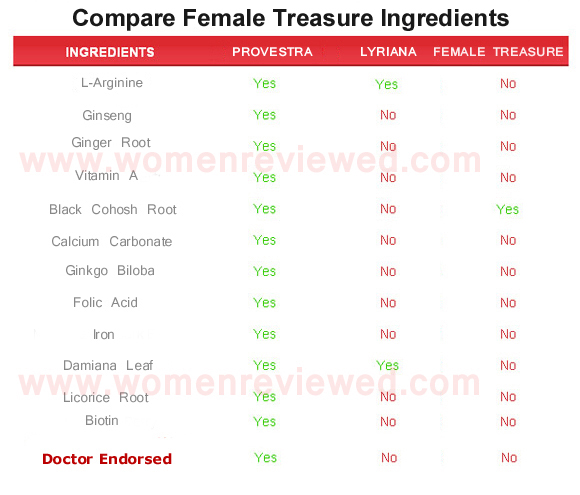 Compare Female Treasure to Provestra
Female Treasure - Full Review
Female Treasure -
Review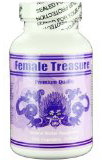 Female Treasure is a female enhancement product which is sold in capsule form, with a blend of 18 herbal ingredients. Female Treasure is sold mainly as a pill to improve female libido and treat menopausal symptoms in pre-menopausal women. Female Treasure claims to be the result of a "master herbalist's aim to create a "Balanced Formula" that "Works" with each person's natural ability. From a Female Treasure web page:
"The Female Treasure Formula is especially designed to align the flow of internal energy and activate your "Chakras". The word Chakra is a Sanskrit term meaning "wheel". A Chakra is an invisible vortex for cosmic energy. There are a total of seven Chakras within the human body. Prolonged sexual union with a loving partner will further increase the radiant glow of each Chakra and generate a vortex of energy up the spine to the crown of the head. The overflow will then spread throughout the entire body, followed by a sensation of incredible lightness, as if floating on clouds. This is known as ecstasy.

The "Female Treasure Formula" is a potent combination of herbs, roots, and super foods uniquely designed for women. Handed down from one generation to another throughout centuries, legend has it that this "Female Treasure" was first introduced by a Taoist alchemist to a young lady who made and sold wine in a small province of China. One day the wizard came into her shop, drank some wine, and left her a prescription of the "Female Treasure Formula" in lieu of payment. She had a local herbalist make her the formula, and then took it diligently. Forever rejuvenated, she began to feel and walk lighter. Each passing year her libido grew stronger, compelling her to frequently seduce men that came to her shop. Thirty years later she still looked like a woman in her twenties."
The Female Treasure product is hormone free and meant to help women improve several aspects of their overall health including hot flashes, night sweats, mood swings, and libido. While we feel that the Female Treasure formula does contain 1 or 2 good ingredients for sexual enhancement (like Horny Goat Weed and Black Cohosh) the majority of the ingredients in Female Treasure are not generally regarded as herbs which enhance female libido or improve sexual function. Many of the ingredients like Green Tea and Peppermint can provide some health benefits, but could just as easily be bought at any health food store.
It's important to note that Female Treasure does NOT seem specifically designed to provide improvement in sexual function or increase female libido. It would appear this product was formulated somewhat as a female 'multivitamin' to address several aspects of aging and symptoms of menopause. If you're looking for a product specifically to improve sexual sensation and arousal - then there's a chance Female Treasure may provide some help, but it is certainly not the best female enhancement formula available today.
Female Treasure -
Product Claims
Eases Menopausal Symptoms
Improves Female Libido
Mood Enhancement
Works to Reduce Night Sweats and Hot Flashes
Female Treasure -
Guarantee
There is no money-back guarantee when purchasing Female Treasure capsules.
Female Treasure -
Usage
Take 2-3 Female Treasure capsules twice daily. Each bottle contains 120 capsules - approximately a 20-30 day supply.
Female Treasure -
Cost
$58.00 for one bottle - one month supply
$174.00 for 3 bottles - three month supply
$348.00 for 6 bottles - six month supply
Female Treasure -
Testimonial
There are no Female Treasure customer testimonials available.

Female Treasure -
Ingredients
The ingredients in Female Treasure are Angelica Root, Black Cohosh Stem, Nut Grass Stem, Lycium Fruit, Schisandra Fruit, Dogwood Fruit, Water Plantain Stem, White Peony Root, Achyranthes Root, Asparagus Root, Eucommia Bark, Horny Goat Weed, Young Deer Horn, Oyster Shell Extract, Wild Chrysanthemum Flower, Wild Safflower, Peppermint Leaf, and Japanese Green Tea Leaf.
Female Treasure -
Side Effects
There are no reported side effects associated with using Female Treasure capsules.
Female Treasure -
Bonuses
Current Female Treasure Free Bonuses:
No free bonuses available with purchase of Female Treasure
Female Treasure -
Medical Endorsements
We are not aware of any doctor or medical endorsements for Female Treasure.
Female Treasure -
Shipping
Shipping cost varies depending on retailer.
Female Treasure -
How to Order
Female Treasure is available to order through certain online retailers, as well as Amazon.com.
Female Treasure -
Conclusion

Overall we feel that Female Treasure is a below average product to help increase female libido or improve women's sexual enjoyment, however it does contain a small amount of good ingredients. While there are 1 or 2 positive ingredients for libido - like Horny Goat Weed and Black Cohosh Root - most of the ingredients are more appropriate for a 'vitamin' or menopause formula than a sexual enhancer. Female Treasure is sometimes marketed as a diet pill, but we cannot verify its effectiveness in this category. In addition, we feel the Female Treasure formula lacks many of the better known herbs for female sexual function, including L-Arginine, Damiana, Folic Acid, and Ginseng.
Another drawback is that Female Treasure has no product website or manufacturer support, and has no reputation in the female enhancement industry. We feel this product is marketed as a virtual 'miracle pill' which will help women lose weight, improve their libido, increase energy, and a number of other things - but sadly comes up short on evidence or trials to show that it works as claimed. Pricing on Female Treasure varies from website to website, however Female Treasure is quite expensive as there are no discounts for purchasing multiple bottles. Additionally, Female Treasure does NOT have any kind of guarantee and we never recommend women buy any product not fully covered by a money-back guarantee.
Daily dosage for Female Treasure is 4-6 capsules, which is probably more than most women would like to take on a daily basis. This is probably because Female Treasure is not one of the more potent female sexual enhancers. Most of the top-selling products only require you to take 1-2 capsules daily, as they are more concentrated with powerful natural herbs.
Overall, Female Treasure may be a product to consider - but if you're looking for dramatic results in a sexual enhancer from a trusted company with an established reputation, then Female Treasure probably isn't your best option. There are several superior products like Provestra, Femestril, and Vigorelle which have been around for many years and have been proven extremely effective. Research from our editors and customer feedback from readers indicate a user rating of #48 for Female Treasure - not bad - but far behind the top-rated female sexual enhancement products. Compare top products.

Millions of women are now successfully using female sexual enhancers like Female Treasure to dramatically improve their sex lives and re-ignite the spark in their relationship. Safe and effective, herbal sexual enhancers for women are one of the most successful options as a treatment for low female libido - and should be considered among the top methods for improving your sexual enjoyment and satisfaction. Female sexual enhancement products can bring back the passion and pleasure in the bedroom that many women now find so elusive.
While not the top-rated female enhancer, Female Treasure may provide some positive results for many of the women who try it. All of our consumer recommended products have proven repeatedly that they work - through numerous clinical trials and overwhelming positive feedback from the women who've used them. We encourage you to learn more about the top rated sexual enhancement products for women - and start experiencing the thrill of revitalized sexual health and desire. Many options are now available that will help restore your sex life and make sex fun again!